If you have a keen interest in the history of the British Military, then a visit to the Royal Logistic Corps Museum may be worth a trip.
Our Managing Director, Michael and his friend John (a lifelong history teacher) recently visited the museum and were kind enough to share their experience with us. The museum located in Deepcut, Frimley is just a short journey from Cavendish Park. It is not a big museum, so it's quite a nice size to wander around at a leisurely pace without being overwhelmed by all the info.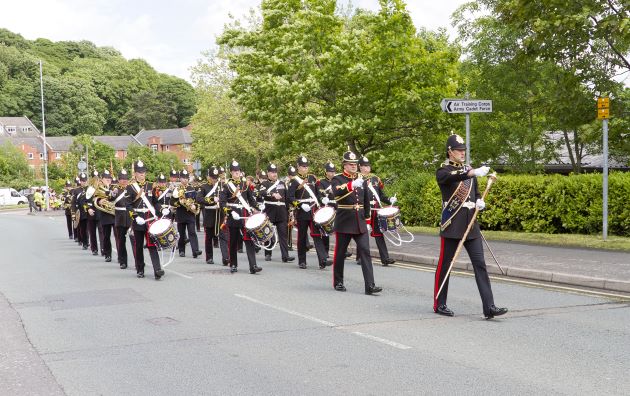 The Band of the Royal Logistic Corps Parade
Originally, the British Army relied on local men to provide provisions and transport to the Army overseas but this proved to be inadequate. The Royal Waggoners were the first Transport Corps to be created within the Army, in 1794. They became the Supply and Transport branch for the British Armed Forces, only later to become known as the Royal Logistics Corps. Today they are the largest Corps in the Army, effectively bringing together a group of essential organisations that provide resources throughout the Armed Forces which also include the postal and courier services.
A day out near Cavendish Park, Sandhurst
The history is plentiful which is shown throughout the museum with well written display boards and photography that take you on a journey through time, starting with The Royal Waggoners proceeding to present day. It is very navigable for someone with only limited previous knowledge of military history and although aimed at the general public, there are parts that are quite detailed and relevant to someone with perhaps a deeper interest.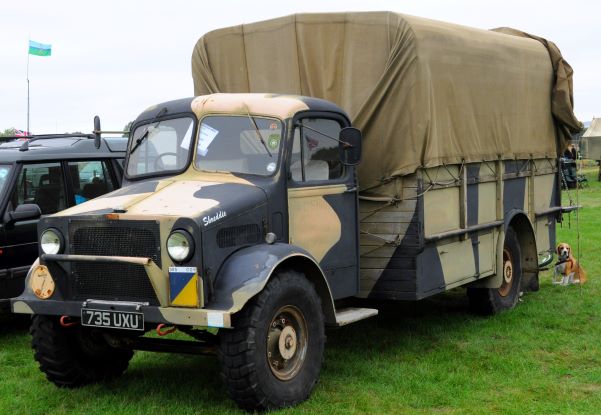 1943 Bedford OY 'Shreddie' in WWII British Army Royal Logistic Corps markings.
There are also plenty of artefacts on display, including a large display of rifles ranging across several decades. The Short Magazine Lee-Enfield rifle was there and of particular interest to John who had learned to fire this in the CCF (Combined Air Cadets) and Michael in the ATC (Air Training Corps). Other items included various bits of equipment used for bomb disposal and quite a wide display of clothing showing the different uniforms and protective clothing worn. There is even a first version of the motorcycle helmet which couldn't be used because the visor to protect their faces misted up!
Our Managing Director found the Dunkirk cabinet particularly interesting having recently seen the film. They were both pleased to see Bernard Montgomery's Rolls Royce there, not just because they are both classic car fanatics but because Bernard Montgomery became one of the most well-known British Generals of World War II and attended the Royal Military Academy in Sandhurst. It is pleasing that this can be preserved so near to where his career began.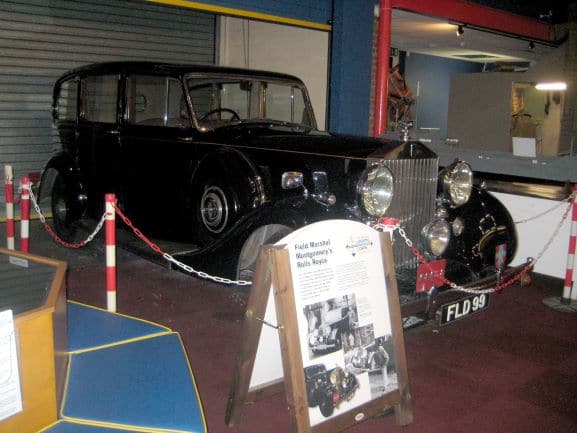 Bernard Montgomery's 1939 Rolls Royce Wraith
The Rolls Royce was commandeered by the British Military of War's Transport Section when the war started, for use by General Montgomery. Nicknamed Monty, he was perhaps most famous for being appointed Commander of the 8th Army in the Western Desert and delivered allies, their first major land victory of the war. For John, the photos of the North Africa campaign were of special significance because John's Dad joined the army as a butcher's boy and was in active service in North Africa, eventually leaving the army as a Captain.
The museum does make a wonderful morning out and if you are looking for a spot of lunch somewhere close by, Michael and John recommend the Italian restaurant, Villa Bianca on Frimley High Street. It's about a 20-minute drive from the museum and has parking close by. The independently run Italian restaurant has helpful, pleasant service and the food is nicely cooked and well-presented. Both Michael and John said it was very tasty. A two-course meal with soft drinks, teas and coffees was a reasonable £55.
*The museum is currently closed and due to change locations in 2021 to Worthy Down, Winchester.