Having recently joined Greenfords, I have been developing my role and taking on some of the company's work on the social media and marketing side of the business. The first project that I've had sole responsibility for working on is the sponsorship of Dorking Children's Allotment. I love this project as it captures, in essence, what the word 'community' is all about and I can especially relate to it because of my own little one (he is 18 months).

Dorking Children's Allotment is very near one of our park home estates, Merrywood Park, Box Hill, Surrey. Lots of our Merrywood residents are keen gardeners and between the gardens and grandchildren we knew this was going to be a great project to sponsor. We love the fact that in a world now of technology and gadgets, this project strips nature back to basics and brings families together. It's not just an area for young children, but for children of all ages to work together and to enjoy with parents or grandparents.
Gardening with the grandchildren in Dorking, Surrey
The allotment is to incorporate raised planters, sensory herb & wildlife beds, vegetable patches and educational areas, whilst also ensuring it is a natural habitat for wildlife. It was set up by a team of like-minded mums to provide a communal growing space for families to enjoy being outside together and help each other grow food. The project has many avenues for development to offer enrichment to both the children and parents involved and the project is especially beneficial for children who do not have a garden. It is a safe place for children to learn, play and explore. They try to meet weekly, weather dependent of course, with a monthly weekend get together.
I wanted to follow this project closely – I've loved the snap shots of the kids in action and watching how just stomping about in the mud, could turn into something really wonderful! They started clearing the plot back in October when the weather was not so good (I'm sat here writing this now in 30 degrees heat). I love how all the children got stuck in to help out with their rakes and spades. Sensory play is such an important part of a child's development and the fact that this project incorporates this with spending time outdoors is genius in my opinion.

Dorking Children's Allotment is near Merrywood Park, Box Hill

As spring sprung, the plot was finally cleared and the next steps were put into place. They decided to use decking boards to construct the beds for the area. I'm happy that this allowed us to donate the topsoil for these. What I really like about this area is they have a sand pit and mud kitchen for the kids. I'm wondering now if any work is really being done as it just sounds like fun to me and even someone like myself, who doesn't really have green fingers, feels the draw to get involved.
They must have predicted this amazing summer we're having, as the team decided to build a sun shade. Without any shade to the area it would make it difficult for families with young ones to meet up. This is where the dads got involved, lending their strength to install the poles. I think secretly, they enjoyed more of a cheeky natter! Apparently the kids are going to paint the huge poles into totems. I just can't wait to see these…

Lovely community spirit in the heart of Surrey
As I mentioned earlier, the reason why I love this project so much is how it has brought everyone involved, together. It feels like everybody's opinion is considered and more importantly so are the children's. The collective demonstrated this by taking a Facebook poll on their group page to decide what colour to paint the beds. As you can see from the pics a beautiful bright blue was chosen, giving the plot a sudden Mediterranean feel. It really does look like it's all coming together now.

That weekend they decided to have a celebratory get together to celebrate all the hard work so far, I couldn't agree more. From how the plot looked last October to now, makes me feel very proud of them all. To know our support has contributed towards their goal and given this community a sense of achievement, is extremely pleasing. I must congratulate the team for keeping the allotment going through the heatwave.
However, I'm now starting to think, what about the plants? Well, as always they are one step ahead of me. To my delight, they were busy seeking advice from Surrey Wildlife Trust about the planting section for the raised beds to ensure it is a haven for bees and butterflies. I am impressed! But first, in order to be able to start planting, the beds need to be lined and filled. Apparently the children were very keen to get involved, but unfortunately had to keep out of harm's way because their folks were using a staple gun!

To keep them busy, the littl'uns were set to work to design a sign for the plot instead. The children got very busy drawing and some of the older kids even started collecting natural bits and pieces which they drew around and stuck onto the board. I have to say, my favourite one is the strawberry. Frankly, that level of enthusiasm perfectly captures the way I feel about strawberries. Excellent work kids!
There's still lots more to come, from this area of the Allotment – it's only July, so watch this space.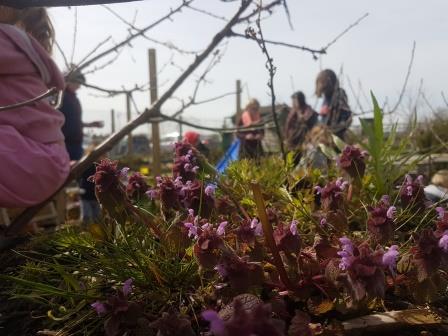 If you've enjoyed reading about Dorking Children's Allotment, do look out for my next blog. I am certainly keen to find out what plants have been chosen, especially after having a sneaky peek at what the little munchkins have been up to…
(by Rosie at Greenfords)