Highly Recommended Walks near Merrywood Park
Go 50 and Go Further Walks
An excellent starting point for keen walkers is the Surrey Go50 walking group, with walks local to Box Hill village. There are five to ten walks each month, around half of which are up to five miles in length and the other half are Go Further Walks, up to ten miles.
Each walk is advertised in the Box Hill News, which is delivered throughout the village, including to all residents at Merrywood Park. Details are given for the meeting points, dates and times, and a description of the type of walk. Some focus on views of the Downs for example, or a specific focus on the trees' autumnal displays, perhaps.
Terry and Brenda have been on several of the Go50 walks, and particularly rated the walk at Weybridge, where they were guided along both the Broad Water and the Weybridge Navigation Canal. They said they really loved the walk along the water and the history they picked up along the way.
Newlands Corner and the North Downs Way

The North Downs Way runs through Newlands Corner, which is reached from Merrywood Park by the A25 in around half an hour by car. The "views are spectacular and it's actually a really beautiful drive to get there, through Surrey villages like Abinger Hammer, Gomshall and Shere."
After a nice long walk, there are convenient facilities at Newlands Corner – with a good little café.
Painshill Park – breathtaking

Painshill Park in Cobham is a "beautiful landscaped garden, designed in the 18th Century with lots of follies" and viewpoints. The residents who recommended Painshill were so glowing in their praise of the gardens, and their photographs were so beautiful, that we went to check it out for ourselves. It is an absolutely stunning location with an impressive waterwheel and atmospheric crystal caves. Without a doubt well-worth visiting several times, to explore everything, and with free entry on Wednesdays, there's nothing to stop you doing so!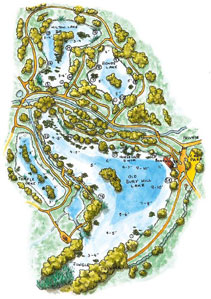 Margaret's husband is terribly keen on fishing and she recommended two great fishing locations less than 10 miles from Merrywood Park, that also have lovely walks for the non-fishing-enthusiast!
Bury Hill Lakes has superbly stocked lakes and all sorts of woodland walks.
Henfold Fishing Lakes is Margaret's top recommendation – they have a great café, outside seating areas and an excellent selection of well-maintained footpaths for exploring the woods and waters.
With many thanks to Brenda, Terry and Margaret from Merrywood Park who gave their time so generously and discussed all their ideas for walks and other days out described here.